New Video | Eminem – Space Bound
Article added by Danny - Friday, June 24, 11:22 pm
Eminem has recently released his new video for the fourth single promoted from the Recovery, the seventh album studio … The video for Space Bound was filmed in February 2011 in Los Angeles and featured the ex-pornstar and also Hollywood actress Sasha Grey. Space Bound was directed by Joseph Kahn who also worked with Eminem for Without Me, We made you and Love the Way You Lie.
The full version of Space Bound was released on iTunes Store on June 24 and it is set to premiere on Vevo – Official Eminem You Tube Account on Monday, June 27.
Watch online Eminem – Space Bound on the Official Eminem Vevo Account.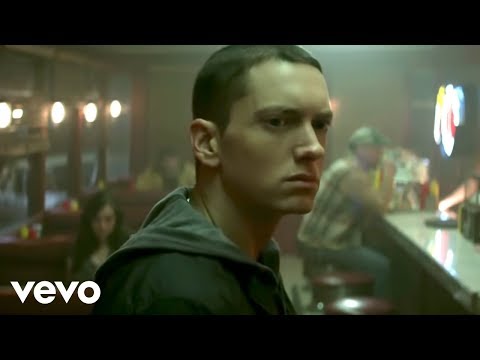 Additional Content for Eminem – Space Bound
Eminem – Space Bound Lyrics
We touch I feel a rush
We clutch it isn't much
But it's enough to make me wonder whats in store for us
It's lust, it's torturous
You must be a sorceress 'cause you just
Did the impossible
Gained my trust don't play games it'll be dangerous
If you fuck me over
'Cause if I get burnt imma show you what it's like to hurt
'Cause I been treated like dirt before you
And love is "evol"
Spell it backwards I'll show you
Nobody knows me I'm cold
Walk down this road all alone
It's no one's fault but my own
It's the path I've chosen to go
Frozen as snow I show no emotion whatsoever so
Don't ask me why I have no love for these motherfucking hoes
Bloodsucking succubus, what the fuck is up with this?
I've tried in this department but I ain't had no luck with this
It sucks but it's exactly what I thought it would be
Like trying to start over
I got a hole in my heart, I'm some kind of emotional rollercoaster
Something I won't go on 'til you toy with my emotion, so it's over
It's like an explosion every time I hold you, I wasn't joking when I told you
you take my breathe away
You're a supernova … and I'm a
I'm a space bound rocket ship and your heart's the moon
And I'm aiming right at you
Right at you
250 thousand miles on a clear night in June
And I'm aiming right at you
Right at you
Right at you
I do whatever it takes
When I'm with you I get the shakes
My body aches when I ain't
With you I have zero strength
There's no limit on how far I would go
No boundaries, no lengths
Why do we say that until we get that person that we thinks
Gonna be that one and then once we get 'em it's never the same?
You want them when they don't want you
Soon as they do feelings change
It's not a contest and I ain't on no conquest for no mate
I wasn't looking but I stumbled onto you must've been fate
But so much is at stake what the fuck does it take
Let's cut to the chase
But a door shuts in your face
Promise me if I cave in and break and leave myself open
That I won't be making a mistake
So after a year and 6 months it's no longer me that you want
But I love you so much it hurts
Never mistreated you once
I poured my heart out to you
Let down my guard swear to god
I'll blow my brains in your lap
Lay here and die in your arms
Drop to my knees and I'm pleading
I'm trying to stop you from leaving
You won't even listen so fuck it
I'm trying to stop you from breathing
I put both hands on your throat
I sit on top of you squeezing
'Til I snap you neck like a Popsicle stick
Ain't no possible reason I could think of to let you walk up out this house
And let you live
Tears stream down both of my cheeks
Then I let you just go and just give
And before I put that gun to my temple
I told you this
And I would've done anything for you
To show you how much I adored you
But it's over now
It's too late to save our love
Just promise me you'll think of me every time you look up in the sky and see a star 'cause imma
I'm a space bound rocket ship and your heart's the moon
And I'm aiming right at you
Right at you
250 thousand miles on a clear night in June
And I'm so lost without you
Without you
Without you
Follow Music News Time | Latest News from Music Business Industry on Twitter, become a fan on Facebook. Stay updated via RSS
Music Tags and Related Music Categories: eminem, joseph kahn, lyrics, new video, official video
Posted in News, Videos by Danny on Friday, June 24th, 2011
The copyrights for the photos, videos or any media files (audio or video) that there are embed in the article New Video | Eminem – Space Bound belong to the artists and to the management or record labels.
For any specifications, informations, opinions, reviews or even thoughts regarding the article New Video | Eminem – Space Bound you can use the comments area or the email address pr@musicnewstime.com.